A deep healing work with Rebecca Bredenhof
Every human being carries the inheritance of past generations on all levels. We know about physical characteristics, but also feelings, illnesses, life's events, spiritual and social convictions can reside in our cellular structures. In every generation there will be something unfinished or unknown that can continue through generations until a family member realizes that deep healing work is needed. In this process, healing or moving into wholeness does not mean eliminating wounds, but discovering what the context of wounds are and understanding the gifts that are inherent in the healing.
Come to deep recognition of yourself and your roots.
Family patterns can be reconciled as part of our human experience. We can relieve guilt, blame, and pain and be connect with the natural potentials and strength from our ancestors. Reiki is a reconciling force that can give the family members a new way of being connected to each other and their family history.
The hands on treatment of First Degree and the distance treatment of Second Degree are used as the sacred tools of this process. Time and space are bridged. Healing takes place as we each hold our past and future within the present. Wondrous dreams, sudden remembering, conversations with family members you never thought would happen or a clear change in the attitude to life, are all possible results, bringing the hidden past to the present.
Healing Your Family Tree with Reiki is an opportunity to join the growing number of people who are experiencing using their Reiki practice to choose engagement with the inner shifts of wholeness within birth family, community and humanity. Healing Your Family Tree is a new deepening in your Reiki practice and profoundly personal work where life and family stories play an important role.
The workshop Healing Your Family Tree with Reiki (HFT) consists of two weekends. You learn how you can use the process of HFT for your personal healing. In the six weeks in between the weekends you work at distance with one of the group members on a daily basis and Rebecca supports the process via email, phone or Skype.
Healing your Family Tree is profoundly personal work and a new deepening in your Reiki practice.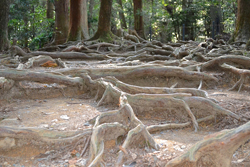 Every atom that's a part of me,
is just as much a part of you !
Also read:

Investment:
HFT in Den Haag € 850,- (two weekends and six weeks of supervision)
HFT in Almaty, Kazachstan: € 1.090,- (two times three days and six weeks of supervision)


Data:
The Hague, Netherlands
Friday 10th till Sunday 12th of September 2021 plus Friday 22nd till Sunday 24th of October 2021 (registration form)
Friday 25th till Sunday 27th February, plus Friday 8th till Sunday 10th April 2022 (registration form)
Location: Reikicentrum Zijn, The Hague, The Netherlands
For information: Rebecca Bredenhof, 070-3677964, Dit e-mailadres wordt beveiligd tegen spambots. JavaScript dient ingeschakeld te zijn om het te bekijken.
Language: Dutch, translation Dutch-English possible upon request
Times: Fridays from 4pm – 6.30pm, Saturdays and Sundays from 9.30am - 6pm
Almaty, Kazachstan
Spring/Summer 2022
Rebecca Bredenhof has been a Reiki Master in Usui Shiki Ryoho since 1996. In 2007, she was full of anticipation when she started with Healing your Family Tree with Reiki for deep healing of her family tree. Enthusiastic about the result she decided to become a teacher in this beautiful and profound work, which has been developed by Marta Getty. Marta prepared Rebecca Bredenhof for this work for a period of five years. At the beginning of 2013 Rebecca became the first teacher Healing Your Family Tree, trained and certified by Marta.